Custom Leads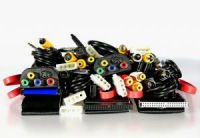 Leads Direct specialises in creating unusual and individually personalised leads for specialist applications.
Recording Studios, Television Studios, Live Performers, manufacturers, repairers, installers – even Jewellers and Trophy Makers… All these and many more have used custom leads at one time or another. If you're looking for custom mains cables ranging from UK, Schuko, Euro, NEMA, US, Australian, Italian, IEC C13, IEC C14, IEC C15, IEC C19, IEC C20, IEC C21 along with many more; Custom Audio cables including, XLR, Jack cables, DIN; Custom Serial Cables 9 pin (DB9), 15 pin (DB15 and HD15), 25 pin (DB25); or ANY custom cable please get in touch. We specialise in a number key areas and have key customers, for example we've made custom cables for well known television broadcasters for their new specialist cameras, optical leads for the Olympic games, specialised cables for Siberian (along with others) Oil and Gas feilds, Custom signal cables for Aircraft, Custom leads for the transport industry, Custom cables for Defence contractors along with many, many more. Some of our specilist areas include but are definitely not limited to Aerospace Cables, Control Cables, Industrial Cables and Research and Medical Cables along with many others.
All our custom leads and cables are made using high quality cable and connectors, unless stated of course! We have a wide range of German made high quality IEC connectors, Neutrik XLR and Neutrik Jack connectors, Neutrik Style XLR and Jacks, if you order a custom lead from Leads Direct Ltd you can be assured of a very high quality job. In all our years of making custom leads we have NEVER had a faulty cable, which is pretty good we think! Check out our Testimonials Page to see what some of our customers think. Go on give us a go!
Key Benefits of Custom Leads:
You can choose any length of lead
You can choose any type of connectors
Mix and Match to suit your requirements – how about a loom with a mixture of Phono, Jack, XLR and Bantam connectors?
What you see is what you pay – No hidden charges or extras!
Delivery
A fast turnaround is our speciality. Subject to component availability and current order levels Custom Leads can be manufactured, electronically tested and dispatched to you within as little as 48 hours. A despatch date will be quoted when your order is confirmed.
Various delivery options are available, including postal delivery for small and light orders. See our Carriage information pages for more details.
Pricing
Because each order is different, we have to quote individually for each lead. For a quotation, email us, telephone our sales team on 0345 193 0615 (Lo-call local rate. multiple lines) or complete the Quotation Request form below and click the Submit Request button. An acknowledgement and quotation will be sent by return.