Buy With Confidence
Leads Direct is very proud to have been awarded the status of 'Approved Trader' under the Trading Standards approved Buy With Confidence scheme.
The Buy With Confidence scheme helps consumers to find approved traders who have agreed to provide high standards of customer service, including dealing promptly with any complaints. Any business can apply to join, and the list of approved traders runs from builders to wine merchants and from chauffeurs to upholsterers.
Approved traders are vetted before they are allowed to join and agree to ensure that staff are properly trained for their work and respond promptly and correctly to customer complaints. In addition, Trading Standards will provide a mediation service if there is a dispute which cannot be resolved between the parties concerned.
Consumers can be certain that if they use an approved trader they have been thoroughly checked and have agreed to adhere to the highest professional standards.
There are now over 100 approved traders signed up to the East Sussex area scheme. Having originally started in Hampshire the Buy with Confidence scheme is rapidly being expanded right across the UK. Wherever you are in the UK there is likely to be a branch of the scheme not far from you, and more are being introduced all the time.
The Buy with Confidence scheme of which we are a member is run by  Trading Standards. For complete details on the scheme, visit the Buy With Confidence website
---
What does Leads Direct being a Buy With Confidence Trading Standards Approved business mean for you?
---
In simple terms, it means that you are guaranteed that we are:
Vetted and approved by Trading Standards
Committed to operating in a legal, honest and fair way
Criminal record checked (if going into homes)
Qualified, experienced and fully insured
Monitored to ensure a high level of customer service
Advised on Trading Standards legislation
---
Certificate Presentation
---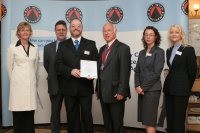 Presentation ceremonies are held regularly as new traders are successfully vetted and granted formal approval and recognition. These events give the press an opportunity to find out about the companies who have undergone the vetting process and gives those companies an opportunity to meet both the scheme organisers and the other businesses in the same intake. Future meetings and ceremonies are planned for the scheme and it is hoped that these will incorporate additional training and activities for the members which are designed to make them even more efficient and to improve the service they give to their customers.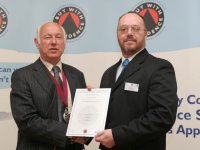 Our Managing Director, Chris Bray, went to the ceremony held at the Pier Hotel in Eastbourne on 3rd June 2005 along with a number of other Buy With Confidence approved traders to receive the certificate. The award was presented to him by the Chairman of East Sussex County Council.
 Photographs in this article by: Zenith Photographic